I want to thank Adobe for their gift. What gift? Adobe offered a FREE Thawte developer security certificate to the first 135 or so developers that contributed to their AIR marketplace. And yes, CreOFF is one of the lucky ones.
Why is this of importance to you? Well, if you have ever installed some Adobe® AIR applications on your pc then you will have seen the install screen which looks like this: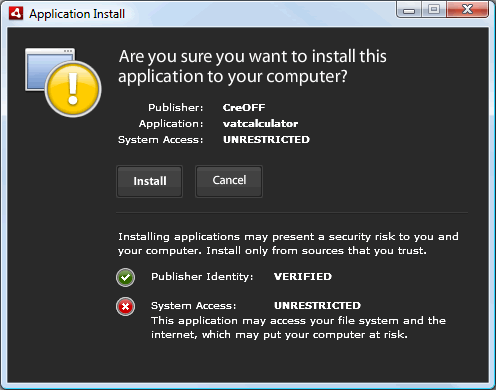 Since Adobe AIR apps can do a lot of good but also bad things on your pc it's important to be sure that this AIR application really is coming from the publisher (CreOFF) and not some third party posing as CreOFF after having added who knows what kind of malicious code to the AIR app or maybe even just writing fake code.
A signed application will have a green checkmark and the word "VERIFIED" after the "Publisher Identity" label. This way you can be sure that the code inside was really created by CreOFF.
The VAT Calculator in it's AIR version has been updated to 1.01 - no significant changes to the source code have been made except digitally signing the AIR package.
One negative point however might be the file size: the AIR package size has increased a lot just by adding the security certificate so it seems that the cost for some peace of mind is a slightly longer download time…