VAT widget now on Adobe AIR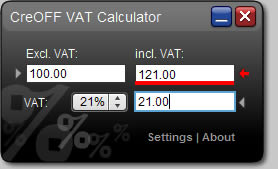 The much anticipated Adobe AIR technology version 1.0 was introduced February 25th of this year. It's a promising platform and that's why the CreOFF VAT calculator was rewritten for the Adobe AIR platform.
The Adobe AIR version of the CreOFF VAT calculator is based on the calculator widget v1.1 that already existed for the Yahoo widgets platform, and offers almost identical functionality. Visit the download page to download the new widget.
For the developers and AIR enthousiasts amongst you it's worth mentioning that you can take a look behind the scenes because the source code and all other resources are included without any obfuscation or encryption. Some technical info: the widget uses the jQuery framework to handle events, the widget layout is based on simple html/css (like many other widget formats use as well)