New Currency calculator widget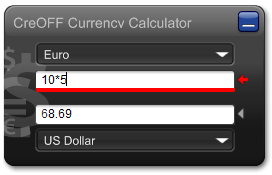 Working internationally? Going on a trip? Then like me you probably have to lookup the current exchange rates for the country you're dealing with. This is now made easier with your new desktop companion: CreOFF's Currency Calculator.
Imagine this if you will: you're planning a trip, looking up flights and hotels etc… Wouldn't it be nice if you could just recalculate the costs in your local currency? Without having to look up the currency rate first and opening your old trusty calculator and doing the magic trick of multiplying everything with the latest rate you looked up manually?
In short: this is a widget I needed urgently, since I will be visiting the other side of the world soon and now I'm in the process of comparing so many prices. I wondered: "if only the VAT calculator could magically lookup currency exchange rates as well". And voila: the idea of the currency calculator was born!
What features does it have?
automatic lookup of the currency exchange rates of your choice
calculate values between two currencies
based on the same easy calculation engine as the VAT calculator
add many more currencies (or remove unused ones)
… and keep the rate up-to-date by getting a new rate whenever necessary
There's lots of ideas for extra features, but this is the stuff you need to keep it simple yet useful.

Note: you do need Yahoo! widgets system to be able to run the widget.